A wardrobe might be used for storage in the end, but that doesn't mean it has to be plain and dumpy. You can count on the finish of your wardrobe to balance out the interior design scheme of the room it's in, whether in terms of colour, texture or visual illusion. That said, the best wardrobe material is one that balances durability and functionality with oodles of style.
So, why stay mundane when you can experiment? Here's a list of wardrobe materials to pick from:
#1: Plywood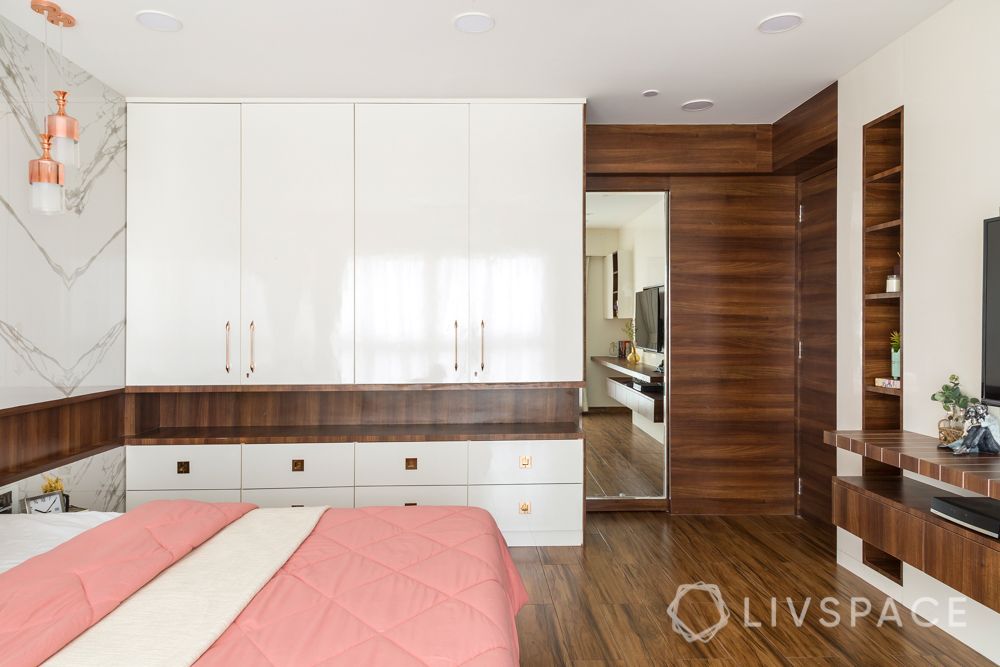 Plywood is one of the most durable and robust substitutes for solid wood. This material is made by putting together sheets upon sheets of wood veneer. They are evenly distributed in strength and create solid layers. Despite that, plywood is considerably lighter and easier to work with, making it a versatile option for more detailed wardrobe designs. Used as a base for laminates, it often means you can deck it up in a variety of colours without compromising on strength. Plywood comes in larger sheets, which means minimal wastage and larger surface areas covered with a single sheet.
#2: MDF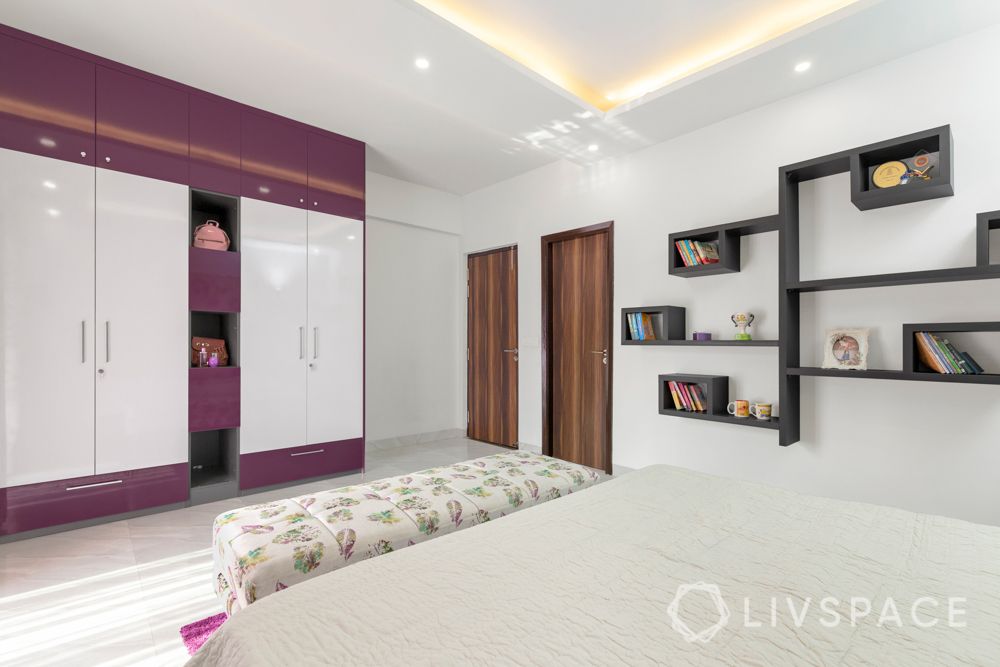 MDF or Medium Particle Fibreboard consists of wood residue that's been hammered down into sheets. Since fine particles are used in the making, the resulting surface is smooth and even, without bumps and knots. This makes it the best wardrobe material for painting on. It's a lot more affordable than plywood and is environmentally friendly, too, as it uses waste wood. Smooth edges allow for decorative cuts and corners, which means more versatility in your wardrobe design!
#3: Particleboard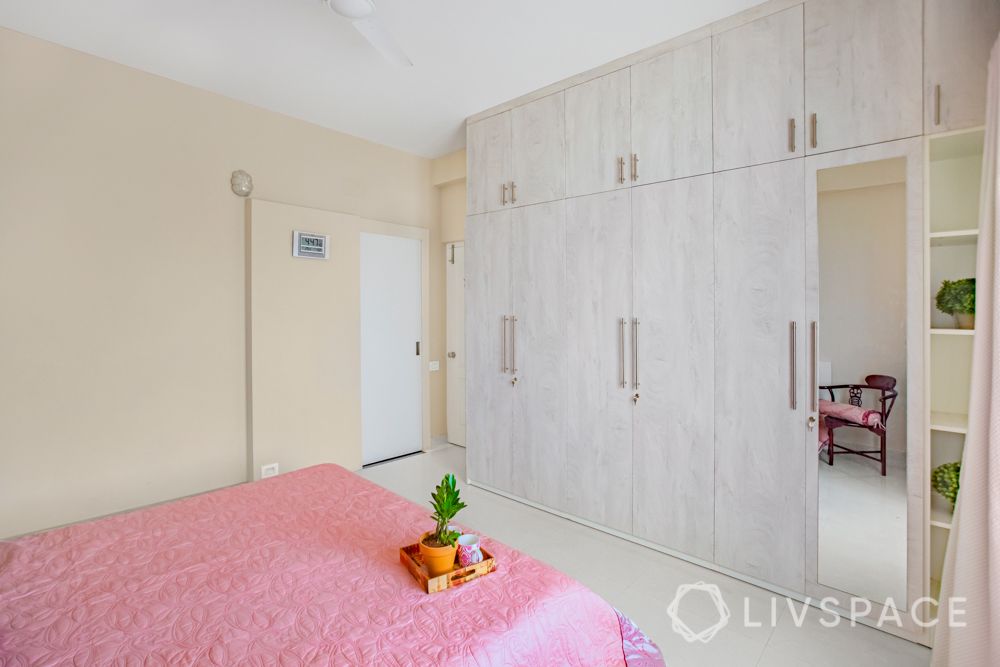 Quite like MDF, particleboard is also engineered from waste wood chips and sawdust, making it yet another eco-friendly option. It costs lesser in comparison to MDF and plywood and often comes pre-laminated, which reduces the decision-making process. While particleboard isn't as strong as plywood or MDF, it's still very lightweight and workable.

#4: Glass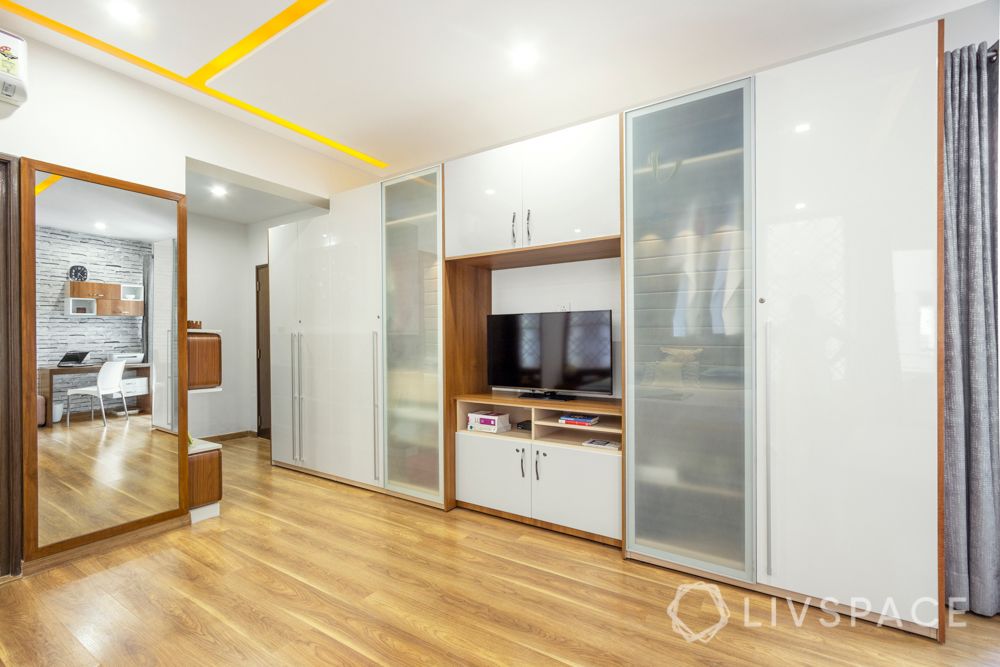 Glass is increasingly becoming a favourite in the interior design world, not least for its contemporary appeal. Glass-fronted wardrobes make the otherwise solid structure look lighter and also encourages homeowners to keep the interiors clean! It's resistant to most wear-and-tear and can be wiped down for fingerprints and stains. If transparent glass isn't up your alley, opaque and coloured glass are equally attractive options, albeit with a little more privacy.
#5: Solid Wood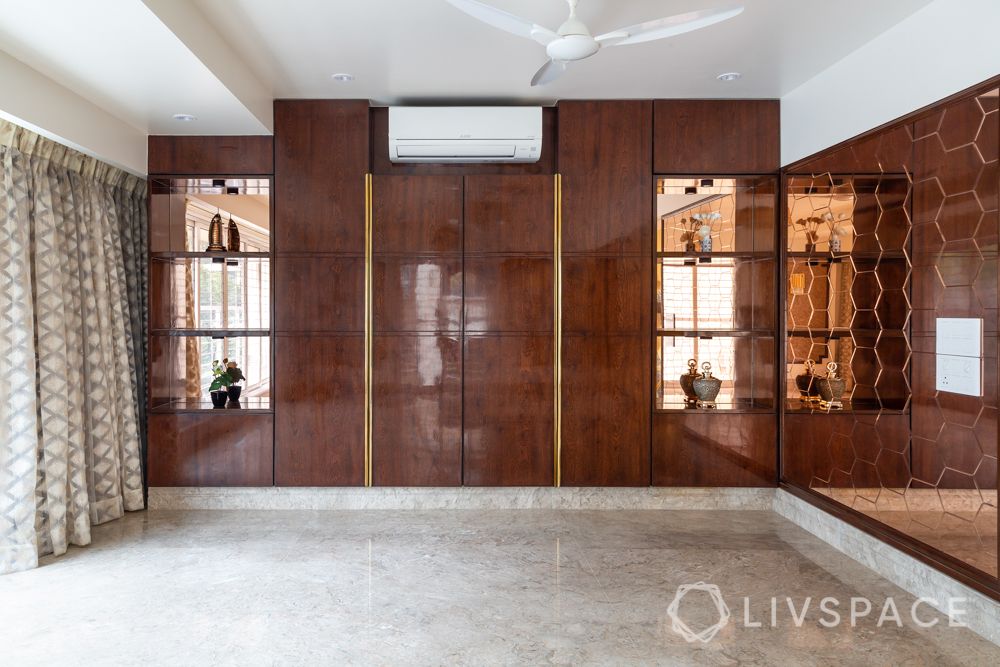 A traditional favourite, wood is still the best wardrobe material by many design classicists. It stands the test of time and has the visual appeal of natural textures, striations and colour differences. It's not as customisable as other options when it comes to colour and finishes. But many owners prefer it that way. Solid wood is heavy and can be susceptible to scratches and nicks if not taken care of properly.
Choosing the best wardrobe material goes a long way in ensuring your wardrobe remains timeless, both in durability and style!
Pro Tip: You could also consider mixing and matching two or more of the best wardrobe material to get the best of both worlds. For example, you could use MDF for wardrobe doors and plywood for the body as the former is more customisable and the latter, durable.
Now that we have covered all materials used for wardrobes, the most popular materials used for the carcass are plywood and MDF. Their prices are:
| | |
| --- | --- |
| Material | Price range |
| Particleboard | Starting at ₹ 25,000 |
| MDF | Starting at ₹ 26,000 |
| Plywood | Starting at ₹ 34,000 |
| MDF with glass shutters | Starting at ₹ 43,000 |
If you like these wardrobe material ideas, take a look at What's New in Wooden Wardrobes?
Send in your comments and suggestions.